Article 4 : True HDR Master Monitor
True HDR Master Monitor
Although HDR has been one of the major issues in cinema and broadcast industry for last 5 years, even professionals still wonder what is true master monitor for HDR, or what is the minimum requirement for HDR production or HDR color grading display. 5 questions below can guide you to explore the requirements of HDR master monitor.
1. Does it reproduce SDR colors perfectly?
2. Does it have high enough Dynamic Range?
3. Does it reproduce accurate HDR EOTFs?
4. Does it reproduce accurate HDR colors?
5. What about the colors outside the monitor's color gamut?
In this article, I would like to investigate the general color reproduction requirements based on the specification of EBU Tech. 3320 (ver.4.1). It is the best reference for professional HDR monitors since it is based on long history of investigation on theory and physical experiment. It has been upgraded as the technology and trend evolves. HDR specification was first added in 2017 and the latest update was made on Sep. 2019.

Let's explore the EBU Tech. 3320 specification and the new TVLogic calibration report to answer the 5 questions above.
1. Does it reproduce SDR colors perfectly?
EBU Tech. 3320 defines the color reproduction quality for broadcast monitors in 3 categories. Grade-1 monitors means the master monitor or reference monitor for the most color-critical tasks, while Grade-2 and Grade-3 can be used for less critical operations.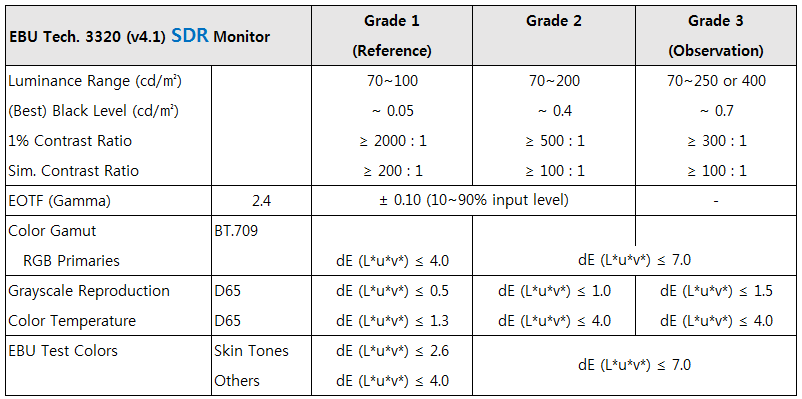 Maximum luminance for Grade-1 should be adjustable between 70nit ~ 100nit, and the black level should be less than 0.05nit which can be achievable only with OLED screens, not with normal LCDs. The resulting contrast ration is about greater than 2000:1 and the simultaneous contrast ratio should be greater than 200:1.

Gamma value 2.4 should be maintained within ± 0.10 tolerance from 10% to 90% input level. Color gamut should be compliant with BT.709 and the color primaries should be in deltaE ≤ 4.0 tolerance. Grayscale color reproduction and color temperature must be within very tight specification. delta E (L*u*v*) ≤ 0.5 and delta E (L*u*v*) ≤ 1.3 tolerance respectively. Below is a part of the calibration result of LUM-310X-CI that shows perfect match for gamma 2.4 and perfect black level of 0.001nit.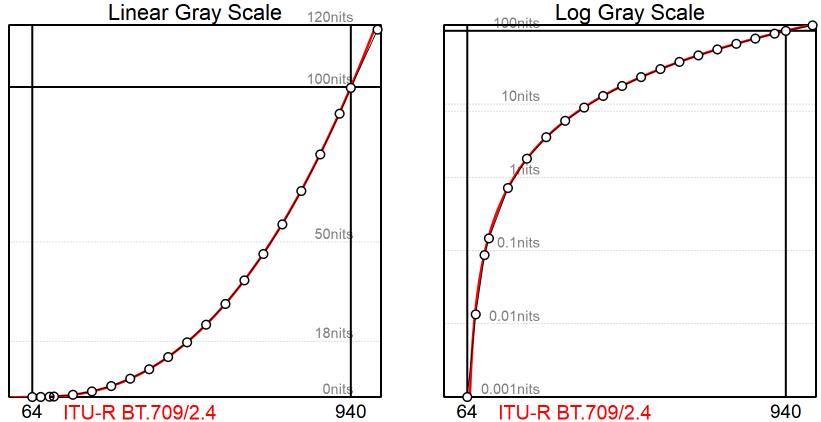 The graph and table below also show the perfect grayscale color reproduction analyzed both in nit, Kelvin and delta E 2000.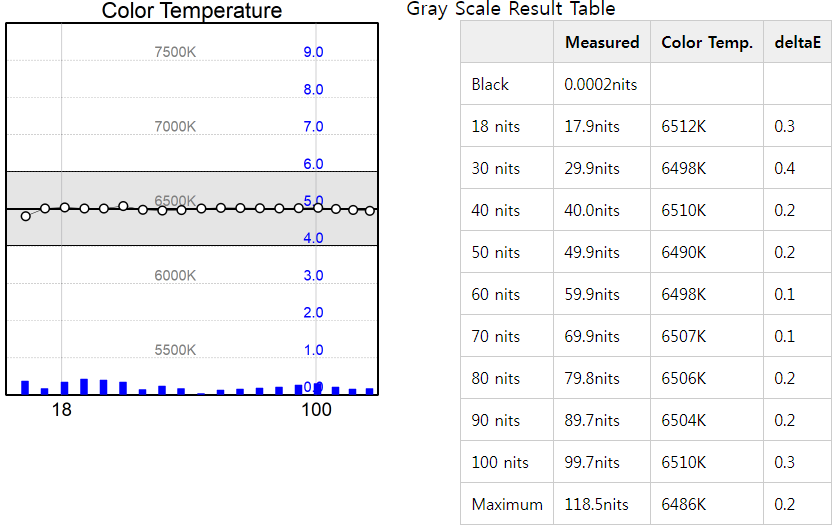 And 15 EBU test colors including two skin tones are presented for checking the ultimate color reproduction quality of the display. For Grade-1 monitors, actual color reproduction for two skin tones must be delta E (L*u*v*) ≤2.6 while other 13 colors must be delta E (L*u*v*) ≤ 4.0. The graph below shows the color checker evaluation result of LUM-310X-CI for SDR color reproduction. 24 colors of Gratag-Macbeth, and 15 test colors of EBU Tech. 3325 are measured and analyzed.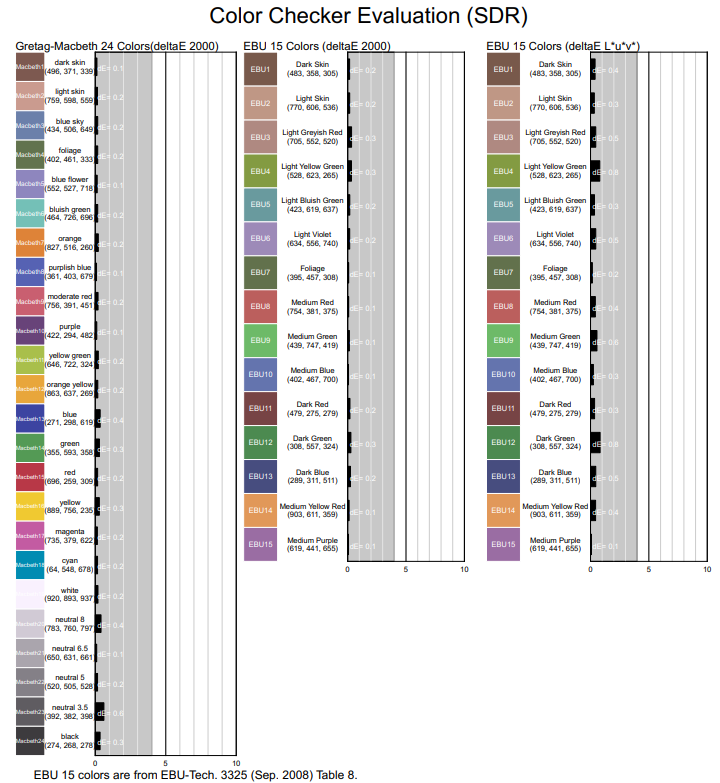 You can refer to Netfilx recommendation or EBU specification for the criteria to judge if the color reproduction is good enough for color grading. We would also like to recommend similar but little bit tighter criteria for Grade-1, 2, 3 monitors as below.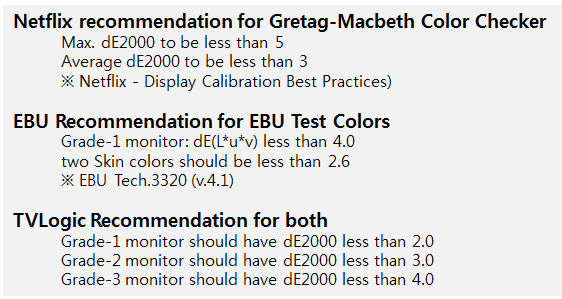 2. Does it have high enough Dynamic Range?
Table below is the summary for HDR color reproduction requirement specified in EBU Tech. 3320 (ver.4.1). As the Grade-1 monitor specification for SDR was achievable only with OLED screen just because of black level of 0.05nit, HDR specification also request very special display technology to meet all the requirements below. That is basically a high dynamic range of luminance - 0.005 ~ 1,000nit for Grade 1 HDR, 0.01 ~ 600nit for Grade 2 HDR and 0.02 ~ 500nit for Grade 3 HDR. And Grade 1HDR and Grade 2 HDR monitors need to have wide color gamut that can cover more that 60% of the BT. 2020 and 100% of BT.709 color gamut. Color reproduction for grayscale and EBU test colors also need to be in the tight tolerance.

Currently, normal LCDs cannot reproduced good enough black level along with high luminance, and OLED cannot reproduce uniform peak luminance without power limiting. Only dual-layer LCD and LCD with FALD (Full-Array Local Dimming) back-light system can meet this high dynamic range at this moment. Therefore LUM-310X-CI and LUM-310R-R2 are the only candidates for Grade-1 HDR monitor. Of course, an extensive color calibration is the key to guarantee the color reproduction quality, the display technology for high dynamic range is the initial condition for Grade-1 HDR.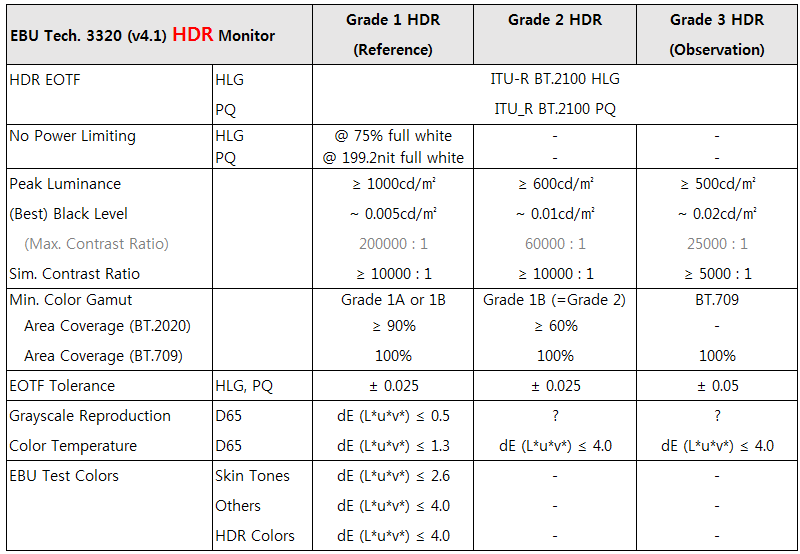 3. Does it reproduce accurate HDR EOTFs?
Two graphs below are part of the calibration report for LUM-310X-CI. Both PQ and HLG EOTFs are perfectly matching the target luminance from black to white. So, we can confirm that the dark shadow details and highlight details will be reproduced properly.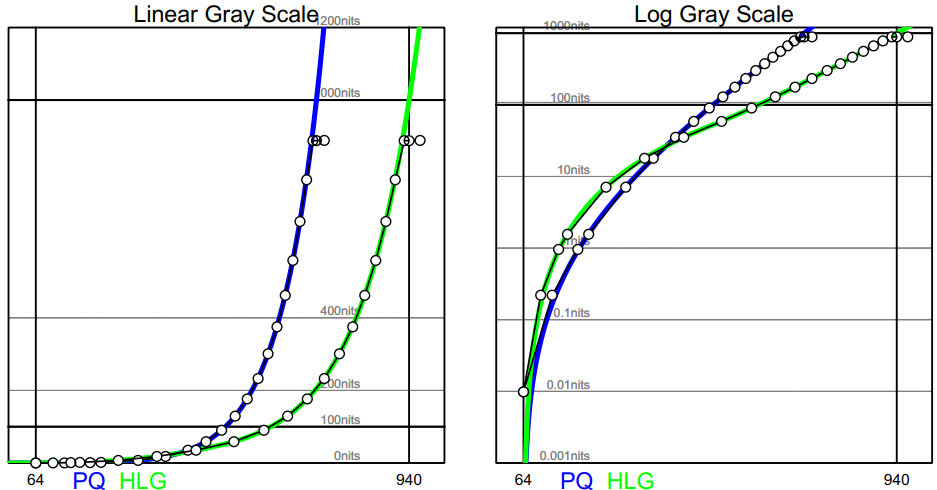 4. Does it reproduce accurate HDR colors?
Below is the color checker evaluation of the calibration report for HLG. We have added 10 more EBU test colors for HDR provided in EBU Tech. 3325 s1 (Sep. 2019). These bright and saturated colors show how the new color mapping algorithm of TVLogic is working. Now the luminance range is from 0.001 ~ 1000nit, but still all the colors in SDR range are perfectly reproduced and the HDR colors are reproduced with very little color difference (in delta E 2000).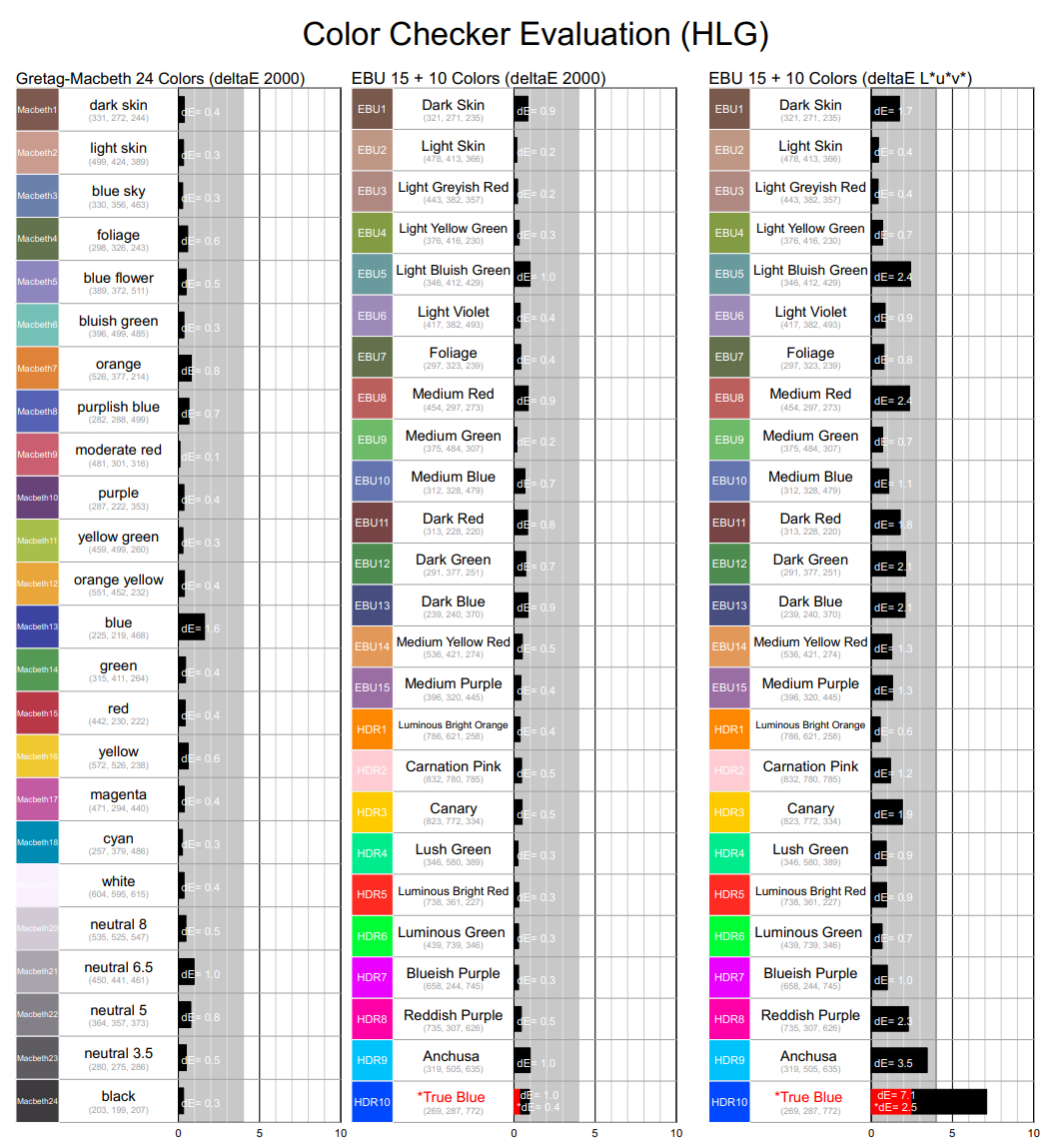 EBU Tech. 3325 specifies that color difference is to be calculated using delta E (L*u*v*). In general, deltaE L*u*v* error values are larger than deltaE 2000 due to the different color appearance model. We strongly recommend to use deltaE 2000 since the calculation is based on CIE LAB colors space which commonly used for modern color management system, while deltaE L*u*v* is based on 3-dimensional color space stemmed from the old CIE uv color space.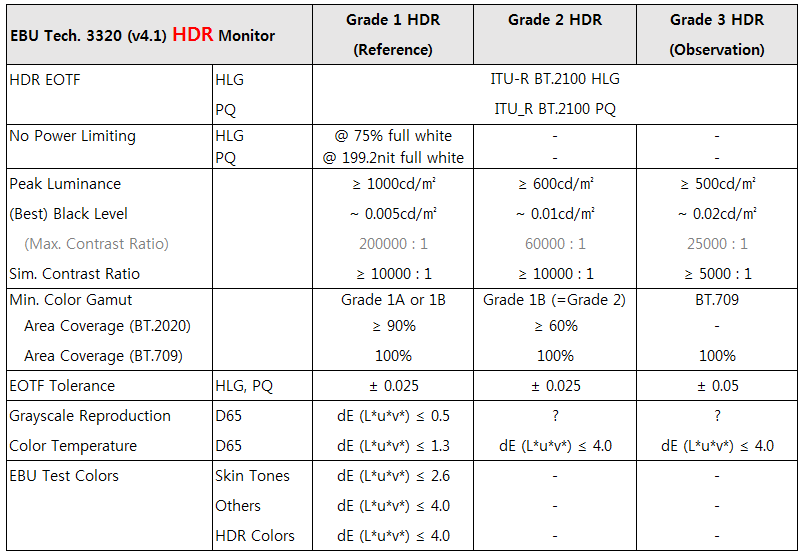 Even using the deltaE(L*u*v*) for the EBU test colors, all the colors are reproduced with dE < 4.0, and two Skin Tones are also dE < 2.6 that satisfy the EBU spec. The only color that doe not is the HDR color of 'True Blue'. This colors is outside of the monitor's color gamut in L*u*v* color space, so it has large dE value. But even this color can have less dE if the target color (True Blue) is moved inside the monitor's color gamut. (Please be reminded this 'True Blue' is inside the color gamut of the monitor in CIE LAB color space, so the dE2000 is less than 2.0 and satisfy the specification)
5. What about the colors outside the monitor's color gamut?
BT.2020 color gamut is extremely big, so there is no commercial display that can reproduce 100% of this BT.2020 color gamut. Most of the commercial LCD displays cover 100% of BT.709 color gamut and some high-end LCDs cover 100% of DCI-P3 or Abobe RGB color gamut. Therefore even the best LCDs commercially available at this moment can reproduce less than 90% of the BT.2020.

This means that bright and/or saturated colors of BT.2020 (HDR) are outside of the monitor's color gamut and thus cannot be reproduced as they are. These out-of-gamut colors can either be clipped out or mapped with certain algorithm. TVLogic has recently introduced a new color mapping algorithm for LUM-series monitors starting with LUM-310X-CI, 318G-CI and 313G-CI. The out-of-gamut colors are mapped into the monitor's gamut surface by reducing its brightness and/or saturation while maintaining its original hue. This will enable the users to perceive these out-of-gamut colors with very limited color distortion.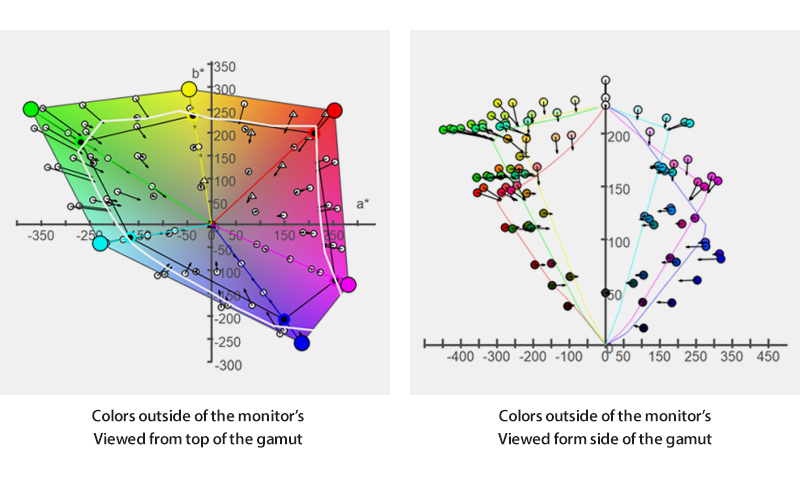 In the graph below, colored area is the BT.2020 color gamut and the white solid line shows the boundary of the monitor's color gamut. Small white dots are measured colors with less than deltaE 2.0 errors. Here you can confirm that only 1% of the test colors are reported to have dE ≥ 4.0, and 99% of the test colors have dE less than 2.0. This means that the BT.2020 colors outside of the monitor's color gamut are gracefully mapped onto the surface of the monitor gamut.